Fuel prices went higher by 36 paise on Friday as petrol in New Delhi touched Rs 77.83 from yesterday's Rs 77.47 per litre and Rs 85.65 from yesterday's Rs 85.29 per litre in Mumbai. Diesel also saw a hike of almost 22 paise to Rs 68.75 in the national capital from yesterday's Rs 68.53. The prices came into effect at 6 am today.
Petrol and diesel have witnessed a steady climb since the past 12 days as they became dearer by almost Rs 2.50, leading to a political slugfest. Fuel prices in the domestic market are on the rise as the price of crude oil in global markets went up. A weakening rupee against the US dollar has aided the situation, as a delicate exchange rate between the rupee and the dollar has put an extra burden on consumers in India.
Union Minister Dharmendra Pradhan on Thursday said that bringing fuel under the GST regime would be one way to ease the situation. "The value of Indian rupee has reduced in comparison to the dollar and there has been a surge in oil prices. We are trying to control prices. GST is one way to ease the situation, other ways also being thought of," Pradhan told ANI.
#WATCH: Petroleum Minister Dharmendra Pradhan speaks about fuel price hike, says, 'GST is one way that is being looked into to ease the situation, many other options are being explored for both short & long term solutions.' pic.twitter.com/ssfnXmTNFa

— ANI (@ANI) May 24, 2018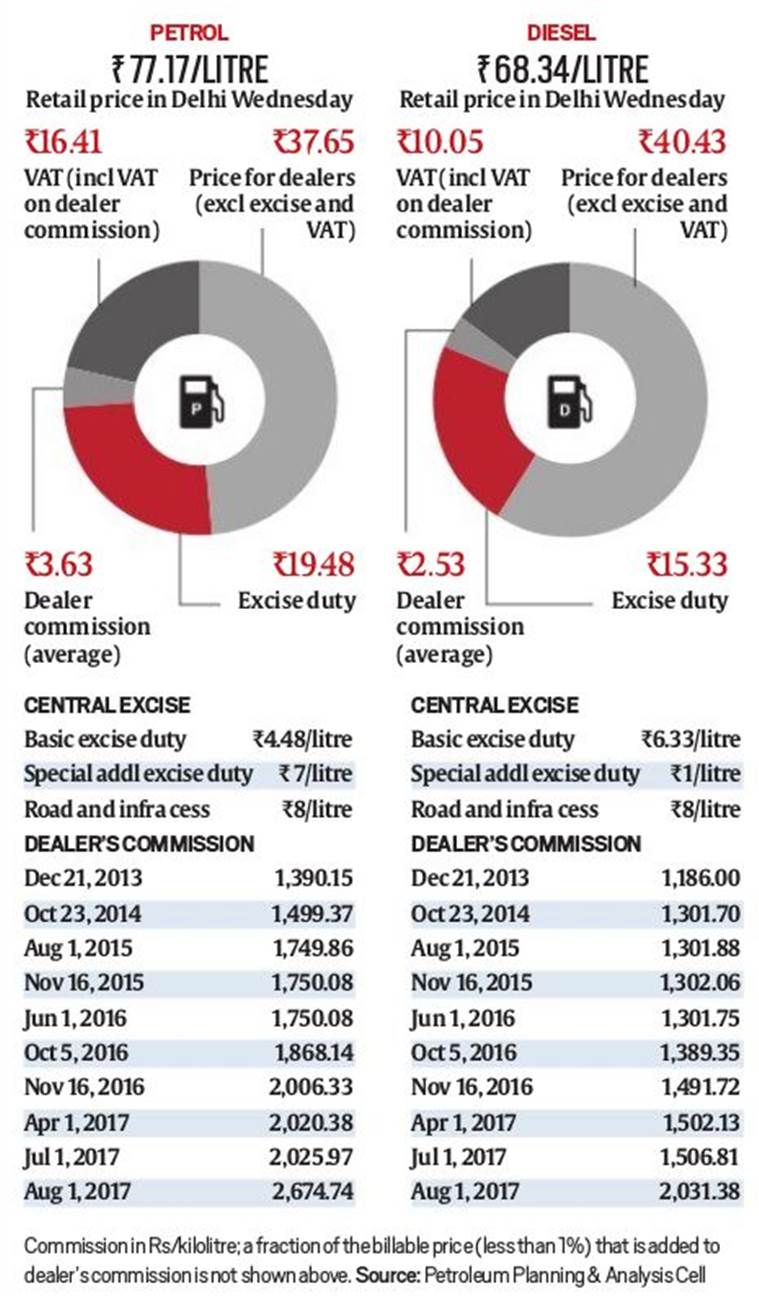 Union Minister Nitin Gadkari on Thursday said that any cut in fuel prices will take away chunks of money meant for social welfare schemes run by the government. "This is an unavoidable, economic situation. It is directly linked to the global economy. If we have to sell it (petrol/diesel) cheap, it means we will have to buy it at higher prices and subsidise it here," Gadkari told The Indian Express in an interview Wednesday. "If we subsidise that, all the money from our social security schemes will vanish," he said.
Meanwhile, Congress chief Rahul Gandhi on Thursday "challenged" Prime Minister Narendra Modi to reduce the price rise, warning of "nationwide agitation" unless done so. PM Modi had recently tweeted that he accepts a "fitness challenge" by cricketer Virat Kohli, who had challenged him. The challenge was first launched by Union Minister Rajyavardhan Singh Rathore.