As the political scene shifted from Karnataka to bye-elections across nine states on Monday, reports of malfunctioning EVMs and tampering kicked off a fresh round of slugfest between the BJP and the opposition. Samajwadi Party alleged that BJP had tampered with EVMs in Kairana and Noorpur to avenge its embarrassing defeat in Phulpur and Gorakhpur bypolls earlier in the year, while several voters were left in the lurch after polling was temporarily halted in at least 35 booths in Maharashtra's Bhandara-Gondiya Lok Sabha bye-elections on Monday.
Rubbishing the reports as an "exaggerated projection of reality", the Election Commission said it allocated sufficient reserve EVMs and VVPATs for every general and bye-elections. "It is pertinent to mention that an adequate number of reserve EVMs and VVPATs (around 20-25%) are prepared to replace any defective machine on the poll day at the polling station," the poll watchdog said in a press release.
SP spokesperson Rajendra Chaudhary alleged that around 140 EVMs so far had been reported faulty in Noorpur and more than 90 EVMs were faulty in Kairana, which saw about 21 per cent turnout till 11 am. SP state president Naresh Uttam and RLD national spokesperson Anil Dubey also lodged a complaint with the election commission against the faulty EVMs. A five-member BJP delegation, headed by JPS Rathore, too met the election commissioner and said SP's only job was making fake allegations against the BJP.
"We are getting reports that around 140 EVMs are faulty in Noorpur and that is because they have tampered with. The BJP wants to defeat us at any cost as they want to avenge the defeat of Phulpur and Gorakhpur," Chaudhary said in Lucknow. He further informed that they had complained to the election commission office and demanded fresh elections on both the seats. The party spokesperson also alleged that Prime Minister Narendra Modi and Chief Minister Yogi Adityanath were misusing the government machinery and claimed they had information that money was distributed to voters on Sunday.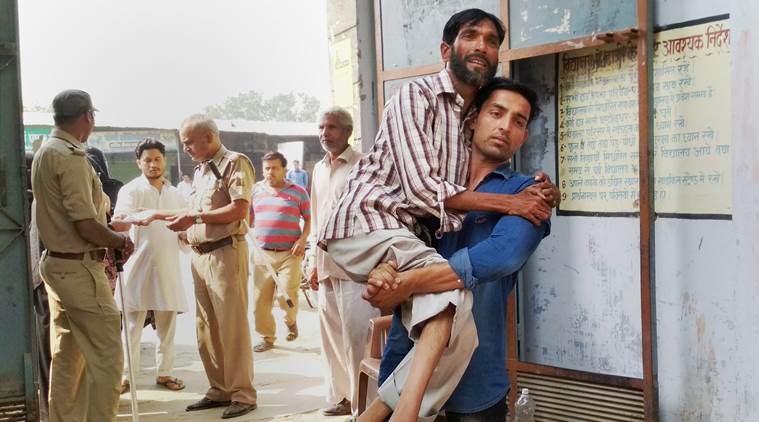 Kairana:

Kairana RLD candidate Tabassum Hasan, who is being backed by the Congress and SP, alleged the EC was not replacing faulty EVMs in Muslim and Dalit-dominated areas. Consisting of 16 lakh voters, the constituency has 5.5 lakh Muslims and 2.5 lakh Dalits and form an influential vote bank for RLD. "The machines are not working properly and are tampered. They are not replacing the faulty machines in Muslim and Dalit dominated areas. These people think that they can win the polls by these means, but this is not going to happen," Hasan said.
Meanwhile, SP national president Akhilesh Yadav took to Twitter and alleged that there were reports of thousands of faulty EVMs and farmers, labourers, women, and youth were standing in queues in the heat. He questioned if these technical glitches were the failure of the election management or a conspiracy to keep voters away from exercising their right.
A similar script unfolded in Maharashtra too, where bypolls are being held for Palghar and Bhandara-Gondiya Lok Sabha seats. Election Commission (EC) officer in Bhandara-Gondiya, Anant Walaskar said EVM-VVPAT malfunctioning complaints were received from 64 polling stations in five hours since polling began for Palghar and Bhandara-Gondiya constituencies at 7 am. "The EC has repaired some EVM-VVPATs or deployed spare machines in many areas," Walaskar said. According to IANS, complaints of faulty or malfunctioning EVM-VVPATs were received from a total of 140 polling stations in both the constituencies, even as reports started doing the rounds that voting in 35 booths in Bhandara-Gondiya was cancelled.
Rubbishing the reports, the EC said the poll process had not been cancelled in any polling station in Bhandara-Gondiya constituency and voting was continuing smoothly after necessary replacements. "Also, the reports emerging in some quarters about EVMs/VVPATs failing in 25 per cent polling booths in the same constituency are also incorrect," the EC said.
The EVM-VVPATs malfunctioned in polling booths at Khapa, Mandhal, Hingna and Kharbi in Bhandara-Gondiya, besides Tarapur, Shelvali, Kamare, Satpati, Maikhop, Dhuktan, Chinchan and other polling stations in Palghar. Besides, around 15,000 voters from Mali Ali, Mavanda, Navale and Nandanvan villages in Palghar's Vasai tehsil boycotted polling, citing lack of developmental works in their area.
Addressing a press conference, NCP leader Praful Patel demanded a complete rethink on use of EVMs and urged for a return to the old system of ballot papers. "Since morning, EVMs at 64 centres started malfunctioning in Gondia Assembly segment. Till now, 34 of them are still not functioning. The Election Commission team that checked the machines said it was due to high temperature. People have queued up despite 45-46 degrees Celsius temperature here. Now, what will they do?" Patel said.
Claiming that there were similar reports of EVM glitches in UP's Kairana, the NCP leader pointed that US elections were also held using ballot papers. "All parties should come together to discuss the issue. If America can do polling with ballot papers, why should we not? At the most, it will delay the poll outcome. So what's the big deal about it?" Patel said. He also demanded that all the bye-election results should be withheld till repolling, if any, was carried out at places where machines had malfunctioned.