On a sit-in protest at the L-G's Secretariat for the past week, Chief Minister Arvind Kejriwal has started a debate over Delhi's future, statehood, and opposition unity. In an interview to The Indian Express, Kejriwal said the protest will continue for as long as it is necessary.
What was the immediate trigger for such a protest?
It is not immediate. We have tried our best to resolve this issue through talks. Since the last three-four months, we did everything possible to reason with the hon'ble L-G. I met him four times during the last three months, Manish met him four times, Gopal Rai and Satyendar Jain met him thrice each.
Further, Manish and I wrote to him. Every time the L-G said just one thing — that he wanted a week's time and he would resolve everything. Finally, we got the impression that the hon'ble L-G never wanted to end this 'strike' by the officers.
In fact, the strike has been instigated by the Centre through their L-G. We are clear that the Centre wants to keep our government paralysed for our remaining tenure.
In the past three months, have you tried reaching out to the officers personally?
Where is the question of reaching out when many officers have told us, in private, that they have been threatened by Raj Niwas that their careers would be ruined if they attend meetings called by the ministers or take their phone calls. The PM wants to completely paralyse the Delhi government through these officers. Many officers are good and honest but they fear for their careers.
Today, even our staunchest political rivals concede that in three years we have done wonderful work in the fields of education, health, electricity and water. People are, therefore, asking that if the AAP government did not allow private schools to hike their fees, made tests and medicines available for free in government hospitals within three years, what have the BJP governments in Madhya Pradesh, Gujarat and Chattisgarh done in so many years?
You have apologised to end defamation cases against you because it was taking away from your time to govern Delhi. Why not apologise to the Chief Secretary to end this stalemate?
First of all I want to categorically state with full responsibility that no assault took place on the Chief Secretary. This alleged assault story was concocted by the L-G and the Centre to implicate me in a criminal case and to destabilise my government. Since a criminal case has already been registered and this matter is now in court, I appeal to all concerned to await the outcome of the verdict.
Why didn't you wait for the SC constitution bench decision, which could have set a stronger stage for statehood?
It is my duty as CM to safeguard the interests of people of Delhi and to speak out for their rights. Since the hon'ble L-G did nothing to end the officers strike, I appealed to the hon'ble Prime Minister to intervene, since the officers are under direct control of the Centre. If the PM wants, the officers' strike can end in a minute… People of Delhi are suffering due to the strike and such revenge on the people is not good.
If the L-G and Centre continue to ignore the protest, how long will you remain on the sit-in?
As long as it is necessary, for the rights of the people of Delhi. The IAS officers have been on strike for four months and government work for the welfare of the people is suffering. Just on Friday, the Environment Minister called a meeting on air pollution and the secretary and member secretary did not attend it. Officers have not attended meetings for the preparation of desilting of drains before monsoon. Dengue and chikungunya season follows the monsoon months. Officers did not come for meetings on this issue either.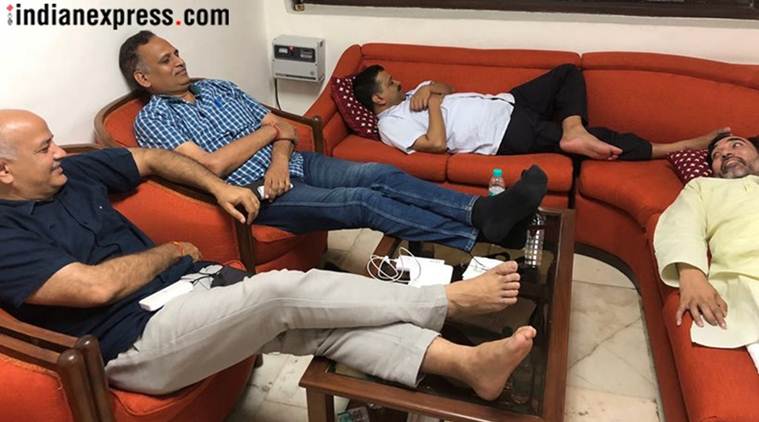 Sharing a single room with your colleagues for seven days is unprecedented. What difficulties are you facing?
We have led many struggles in our lives and sharing a room with cabinet colleagues in my fight for the people of Delhi is a matter of pride for me. We are prepared for any sacrifice; other things do not matter to us. I will fight for the people of Delhi till my last breath.
The Congress says they too asked for statehood, but not through dharnas; others claim this sit-in is to "hide failures" in governance. What is your stand?
How they asked for statehood and why have they changed their stand is for them to tell the people of Delhi, who are very angry with their betrayal and their open support for the BJP. In our three-year tenure so far, we are providing the people of Delhi cheapest electricity in the country, free medicines and tests in government hospitals. Our work in the fields of health, education, electricity and water is there for everyone to see.